82 products in this category, displaying products 81 to 82.
Sort by: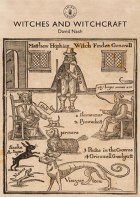 Witches And Witchcraft

Witchcraft haunts the Western imagination to this day, from Central Europe to Britain to North America. This book explores the development of witchcraft and of the belief in it (stressing the diff...

Young Damed And Fair

Born into nobility and married into the royal family, Catherine Howard was attended every waking hour - secrets were impossible to keep. In this thrilling reappraisal of Henry VIII's fifth wife, Gar...