3 products in this category, displaying products 1 to 3.
Sort by:


Map London : Air Raid Map by Aircraft and Zeppelin over London During the Great War 1914-1918

The folding maps collection features reproductions of the rarer maps, all dissected and hand laid onto 100% natural cotton cl...

Secret History of the Blitz

The Blitz of 1940-41 is one of the most iconic periods in modern British history - and one of the most misunderstood. The 'Blitz spirit' is celebrated by some, whereas others dismiss it as a ...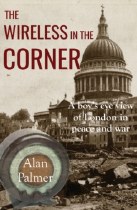 The Wireless in the Corner : A Boy's Eye View of London in Peace and War

Based on diary entries, family letters, photography albums and newspaper cuttings, The Wireless in the Corner is the personal account of a boy bro...