2 products in this category, displaying products 1 to 2.
Sort by: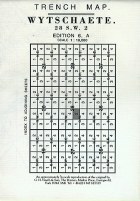 Trench Map : Wytschaete area 28SW2: Edition 5A

Wytschaete was 'Whitesheet' to the British soldiers and it became particularly well known in this country in 1917. This map has Whitesheet approximately in the middle ...


Trench Map Jigsaw

1000 piece jigsaw based on the trench map WO 153/167 held in the collection of The National Archives. A fiendishly puzzle with a sense of history.

The trench map upon which this jigsaw is based is on...