Filtered Search:
3 products found, displaying products 1 to 3:
Sort by:

Tracing Your House History : A Guide for Family Historians

Anyone who wants to find out about the history of their house – of their home – needs to read this compact, practical handbook. Whether you live in a manor ...

If Walls Could Talk: An Intimate History of the Home

Why did the flushing toilet take two centuries to catch on? Why did Samuel Pepys never give his mistresses an orgasm? Why did medieval people sleep sitting up? When w...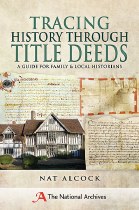 Tracing History Through Title Deeds

Property title deeds are perhaps the most numerous sources of historical evidence but also one of the most neglected. While the information any one deed contains can often be reduced...